I became insane with long intervals of horrible sanity.
Edgar Allen Poe
The trouble with fighting for human freedom is that one spends most of one's time defending scoundrels. For it is against scoundrels that oppressive laws are first aimed, and oppression must be stopped at the beginning if it is to be stopped at all.
- H. L. Mencken
Many people would sooner die than think; In fact, they do so
-Bertrand Russell
What I have been telling you, from alpha to omega, what is the one great thing the sigil taught me — that everything in life is miraculous. For the sigil taught me that it rests within the power of each of us to awaken at will from a dragging nightmare of life made up of unimportant tasks and tedious useless little habits, to see life as it really is, and to rejoice in its exquisite wonderfulness. If the sigil were proved to be the top of a tomato-can, it would not alter that big fact, nor my fixed faith. No Harrowby, the common names we call things by do not matter — except to show how very dull we are ...
-James Branch Cabell
April 17, 2017 - 11:21 a.m.
Maritime Adventure
I'm starting to write before the WFUV Question of the Day is over. That's good but I'm pretty sure I'm going to nap as soon as it's finished. I didn't have the best night's sleep including the hypnogogic hallucination that I'm falling. That's very disconcerting. Psych meds can have some weird side effects. Well I'm still awake I'll try and write to Sunday in the Park with George. I just added it on Amazon Music. This might not be the best choice. I want to listen to the lyrics. Bloggers are bizarre, fixed, cold.
Yesterday I had a nautical adventure; I went to see The Sea the Sea. They were at the Mercury Lounge. I used up my last egg yesterday so the plan was to go to Trader Joe's at Union Square and then walk to the venue. I gave myself quite a bit of time to shop. My plan was to take the 3:51 bus. When I checked on the website I saw that it was behind the 4:11 bus so I would take that instead. I got down there at 4:11 and the bus had not let the terminal. I was just stuck on the south end of the Island. I was afraid I knew what that meant, a lot of traffic and a lot of people on the bus. It finally came, 15 minutes late and was packed. I should have walked to the south end of the island to make sure I could get on. I was able to but barely. There were people left at the stop and the driver announced that the bus was full and would make no further stops unless someone had to get off. I found a bit part of what slowed the bus down was that there was someone in a scooter. If he didn't get on the first stop they would have had to make the people sitting in the seats get up and some people might have had to get off the bus first to allow the driver to set up the wheelchair seating. There was actually room for quite a few more people if the people standing moved back. They were standing so they weren't touching each other. Meanwhile those of us in the front were packed like sardines. We couldn't move back because there was another handicapped woman in one of those walkers that becomes a seat. I was right next to her. The person who was next to her refused to move so that others could move past him to where there was room. He kept us trapped in the front. He said, "there's no room." In the park a woman got off. He still wouldn't move back insisting that there was still no room. I pointed out that there was room where the woman that left had been standing. His reply was "there's no room." I always wonder what people like that are thinking? Is it that he liked the place where he was and figured that he had more room? Did he object that someone asked him to move? Did he enjoy knowing that thanks to him we were all stuck in the front?
I haven't mentioned the biggest factor, it was a beautiful summerlike weekend day and this is City Island. You can't get on or off the island during the summer because so many people are trying to get on and off the island.
Once I got to the subway things got better. It was still Sunday and there was still construction, so there were no express trains. That I can live with. I got to Union Square and walked over to Trader Joe's and found a sign that said, "Easter Hours: 8-5. It was then 6. Arrgghh. OK, so much for cheap eggs and peanut butter let alone the other things on my shopping list. My backup plan was to just get those two things at Whole Foods. I stopped for 99¢ pizza on the way. I was afraid that Whole Foods might be closed too but it wasn't. It was not very crowded so that gave me more time. The eggs were on sale so they were only a little more than twice as expensive as at Trader Joe's.
When I checked the schedule on the Facebook even it said that the first band went on at 7 and The Sea The Sea at 8. I didn't believe it. I've been there before. I was right. The first band went on at 7:30 and The Sea the Seat at 8:30. So I got there before the first band went on. I walked through the front door and there were Mira and Chuck right up front by the merch station. Did I have to tell you that I was doing merch. I had my own little space there behind a counter! I had never done merch at the Merc before. It was not as exciting as it sounded.
I was worried about the turnout on Easter Sunday. I watched the first act from one of the benches on the side. Is the padding new? I usually only sit till the music starts but as I was able to get a clear view I stayed seating. When Chuck and Mira went on I stood up to take pictures. I should have brought my real camera. I am still not in the habit of doing that.
This was a great show. Fine, all The Sea The Sea concerts are a great show but this was extra good. They had so many new songs; they had so many new great songs! It was a shame there weren't more people there. The Sea the Sea have everything; lyrics, beautiful melodies, intricate harmonies and structure, and for those that don't care about those things they sound beautiful. It's always necessary for me to say that their voices blend better than any two people I know. It's the sound of the heavenly choir. What am I missing? Stage banter, theirs is great. Do yourself a favor, next time they are in the area come see them. You'll be hooked just as I am. I can promise it won't be on Easter Sunday.
I hung out with them for a while after their set by the merch area. I always look forward to that too. They are people I can have substantial conversations with, substantial and fun and silly. Then they had to go in to see the next act and I had to find my way home. That went a lot smoother than the trip down there.
I do not have much on my agenda till Friday. That's good as I'm trying to not spend money. The next couple of days I'm going to be busy making calls to get out the vote for the Georgia special election. If I can do that it shows real progress with my mental state as I couldn't do that for the general election. I was just good and created my account on the virtual phone bank. The next important thing is to remember to do laundry today. I am out of clean clothes. I can't go out till I get that done.
Now on to breakfast with those extra tasty expensive eggs. Tomorrow I should be telling you of my harrowing adventures phone banking. OK it's not harrowing. I have so much anxiety but making phone calls is not one of the triggers. Oh, I have to find a way to block caller ID. I know it exists but I never use that. The only reason I remembered now was thinking back to when I did this in 2006 and had to hit *82 or whatever the code was before I dialed each number. It's easier on the cell phone. I just have to remember to turn it off when I'm done. Maybe I won't have to. Another time phone banking I just clicked on the computer and the phone bank called me and then the person I was trying to reach and connected us. That would be nice. The most important thing is that I told you that I'm doing this and will have to face you if I don't.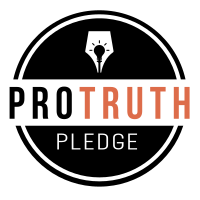 I signed the Pro-Truth Pledge:
please hold me accountable.







Memories: Not that Horrid Song - May 29, 2018
Wise Madness is Now In Session - May 28, 2018
The NFL and the First Amendment - May 27, 2018
On The Road Again - May 26, 2018
Oliver the Three-Eyed Crow - May 25, 2018



creative commons
This work is licensed under a Creative Commons Attribution-Noncommercial-Share Alike 3.0 License.
Horvendile April 17, 2017




Follow on Feedly