I became insane with long intervals of horrible sanity.
Edgar Allen Poe
The trouble with fighting for human freedom is that one spends most of one's time defending scoundrels. For it is against scoundrels that oppressive laws are first aimed, and oppression must be stopped at the beginning if it is to be stopped at all.
- H. L. Mencken
Many people would sooner die than think; In fact, they do so
-Bertrand Russell
What I have been telling you, from alpha to omega, what is the one great thing the sigil taught me — that everything in life is miraculous. For the sigil taught me that it rests within the power of each of us to awaken at will from a dragging nightmare of life made up of unimportant tasks and tedious useless little habits, to see life as it really is, and to rejoice in its exquisite wonderfulness. If the sigil were proved to be the top of a tomato-can, it would not alter that big fact, nor my fixed faith. No Harrowby, the common names we call things by do not matter — except to show how very dull we are ...
-James Branch Cabell
May 18, 2017 - 2:39 p.m.
Be Like Superman
I just finished breakfast an hour and a half ago. Why am I hungry? I'm in a bottomless maw period. That's ironic. People always tell me that I've lost weight. If had been losing weight for as long as people tell me that I've lost weight I'd be floating in the air. Today I looked in the mirror. It looks like I lost weight. I'll have to find a scale I can trust and weigh myself. Maybe the weight has just moved around; it's all in my head taking up the empty space where my brain is supposed to be.
It was 8 million degrees yesterday but I had to go out to go shopping. There were bus problems Which meant an extra 45 minutes outside waiting for a bus. Today I realized there were three things that I didn't realized I needed. I'll hold out till tomorrow when I'm going out anyway. I hope it's cooler. I'm going to the sunset singing circle at Robert Wagner park at 7 PM. You should join me. Yoga mats to sit on and songbooks are provided. Terre Roche leads it.
I thought I'd write about music today but I'm not ready to write what I wanted yet, my thoughts haven't gelled. You'd think with a braincase filled with fat, gelling would come easily.
I could write about baseball. The Mets used to play baseball. I'm not sure what they've been playing of late. That doesn't mean that I'm not still loyal. They are my team win or lose. I'll just wait till next year.
Then there is my fantasy baseball team the Nashional Batnoses. We are not off to a very good start. We were in 12th (last) place for a long time. Now we are in 10th and moving up. I am not in wait till next year mode with them. I predict that like most years we will end up in the money. I know that nobody else cares about it but it affects my mood. Baseball has been berry berry good to me.
I'm going to wander into the dangerous territory of politics. There is just so much going on. There have been scandals before but never so many scandals piling on scandals. Trump is the dog that caught the car and now doesn't know what to do with it? Even if there were no problems with the Russians he has shown that he's totally unprepared to be president. He just doesn't have the knowledge or temperament for the job. He didn't think it would be a lot of work. How can you not think being president takes a lot of work? He has never had an interest in how government is run and it shows. By his tweets and interviews he's shown that he didn't know that it's wrong to ask the head of the FBI to go easy on a friend. He didn't know that though it's legal it's not acceptable to fire an FBI chief that is investigating you. He didn't know any of the limits of presidential power so he takes those limits as a personal affront.
With all that you wouldn't think that people would have to make up things to be upset with Trump about, but they do. This is what Trump said at the Coast Guard Academy commencement:
Look at the way I have been treated lately, especially by the media, no politician in history, and I say this with great surety, has been treated worse or more unfairly.
He's talking about the way he's being talked about, he's talking about the media. Yet it's become a meme to mock him by comparing him to politicians that have been assassinated and imprisoned. Stop doing things like that. It lets his supporters feel justified in thinking the attacks are unfair. That speech was inappropriate and pathetic but a distraction from all the real scandals.
We had great news on the anti-Trump front yesterday, the appointment of a special counsel to investigate the connections between Russia and the Trump campaign. People are even spinning that into a negative. Those against Trump have been pushing for this for months and Rosenstein the acting AG finally relented under the pressure. Yet people are questioning if it's a move to keep the FBI from investigating him. There is no reason to speculate about troubles, we have plenty going on for real.
There's a line from I Claudius that I often quote and more often think about. Speaking of Claudius his brother Germanicus said; "Claudius is loyal to three things, Rome, his friends, and the truth." Going back further and deeper into my memories and core beliefs, Superman "fights the never-ending battle for truth, justice, and the American way." Those two similar creeds reflect my values. Those are things to fight for and those are things to be loyal to. I won't distort the truth to advance my causes and I won't accept others doing it. Trump and his supporters can have their lies and distortions. We have the truth and the facts on our side and those are the weapons we should use. I don't want to become more like those I oppose by adopting the methods which are part of the reason I oppose them. I'd be happier if my allies felt the same way.
I'd really rather write about music. I'm listening to Hilary Hahn play Bach. That's much better than listening to people talk about Trump and much much better than listening to Trump himself. There is still so much good in the world. There is so much beauty. There is so much kindness. Never lose sight of those things.
I'm going to feed my maw now. I usually eat two meals or two and a midnight snack but today my appestat is turned way up. I need peanut butter on crackers. You can watch this.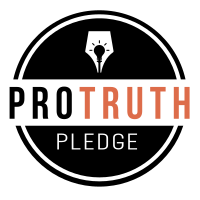 I signed the Pro-Truth Pledge:
please hold me accountable.







Memories: Not that Horrid Song - May 29, 2018
Wise Madness is Now In Session - May 28, 2018
The NFL and the First Amendment - May 27, 2018
On The Road Again - May 26, 2018
Oliver the Three-Eyed Crow - May 25, 2018



creative commons
This work is licensed under a Creative Commons Attribution-Noncommercial-Share Alike 3.0 License.
Horvendile May 18, 2017




Follow on Feedly