I became insane with long intervals of horrible sanity.
Edgar Allen Poe
The trouble with fighting for human freedom is that one spends most of one's time defending scoundrels. For it is against scoundrels that oppressive laws are first aimed, and oppression must be stopped at the beginning if it is to be stopped at all.
- H. L. Mencken
Many people would sooner die than think; In fact, they do so
-Bertrand Russell
What I have been telling you, from alpha to omega, what is the one great thing the sigil taught me — that everything in life is miraculous. For the sigil taught me that it rests within the power of each of us to awaken at will from a dragging nightmare of life made up of unimportant tasks and tedious useless little habits, to see life as it really is, and to rejoice in its exquisite wonderfulness. If the sigil were proved to be the top of a tomato-can, it would not alter that big fact, nor my fixed faith. No Harrowby, the common names we call things by do not matter — except to show how very dull we are ...
-James Branch Cabell
September 12, 2015 - 1:52 p.m.
I Am Not Snow Angel But She Is
Second day in a row I slept very late, 10:30. I awoke, looked at the clock and saw it was 9:00. Closed my eyes for a second and it was 10:30 when I opened them. Some days are like that. So now it's 11:43 and I'm only just starting to write. My entries have been short recently, maybe today will be too. At some point I have to face that huge backlog of pictures that are piling up. You know something even though it's late I'm going to edit the pics from last night, it will make it easier to tell the story. I'm back. I forgot to say, "Smoke 'em if you got 'em." Does that even mean anything to any of my Gentle Readers?
This is funny, I know I have idiot stories to write about and I forgot them; which is of course an idiot story. It's actually worse as some were idiot stories I meant to put in the last entry.
Last night I went to Rockwood Music Hall to see I Am Snow Angel. In one sense it was my first time seeing her, and in another sense it wasn't. I Am Snow Angel is Julie Kathryn and as Julie Kathryn I saw her open for RUNA at Laura's house. I also saw her once with at Rockwood. She's someone I'd see around.
Here's what she looked like at Laura's.

She is not who I expected to see when I first thought of going to the show. I thought it was Angel Snow who I saw on a bill with Amy Speace at Rockwood and who I was also Facebook friends with. I think I can be forgiven for thinking that it more likely that Angel Snow became I Am Snow Angel than Julie Kathryn.
Of course I Am Snow Angel is perhaps the most frequent poster on my Instagram, I see her pictures every day. Couldn't I tell from that? Well she's changed much more than her name, and more than her look too. This is how she looked last night.
Photo by Fred Volkert
As you can see she is no longer another chick with a guitar, but I'm getting ahead of myself
I talked to Katherine who knows her, I saw Julie Kathryn with Katherine; the names get very confusing in this entry. OK that sentence got lost but I still like it. I talked to Katherine about I Am Snow Angel and from that figured out that it wasn't Angel Snow but Julie Kathryn. There's Julie Kathryn aka I Am Snow Angel and Angel Snow and Katherine Etzel, who is in Bobtown. Got it? Good thing Kathryn aka Kay was not there and that it didn't snow.
Anyone still with me?
I met Fred at the show, we were both there before doors opened. I knew there would be no trouble getting in but we want to be early so we can get the Statler and Waldorf Seats, the comfy chairs in the mezzanine that look over the stage. I don't know Julie well enough to heckle so I didn't take full advantage of the seats.
As you might guess from the photo I Am Snow Angel plays electronica, not my usual fare, but not my usual fare is always part of my musical diet. You're in luck. Fred said I can use his pics which are better. I'm going back and changing that last one now.
She has one instrument that looks like an electronic scrabble board.
Photo by Fred Volkert

Photo by Fred Volkert
There are loops and beats and yes sometimes she plays guitars. What it all adds up to is a lot of fun. I Am Snow Angel puts on not just a concert but a show and Fred and I got the best seats in the house. The people on the floor couldn't see half the fun. It's a sound and light show. And I get to show some of my pics.
The Crowd by Angel Snow Light
Then when she talked she was the same Julie Kathryn as at the house concert, soft spoken and genuine.
I really should have talked to her after the show but I was talking to Fred then I wanted to get home to eat. Like today my entire day was on a late schedule yesterday. I had left over macaroni and cheese so the entire cooking time was two minutes in the microwave. Tonight I'm seeing Miss Tess at 10 PM, a late show.
I didn't start reading yesterday till after 1 AM. I planned on reading earlier but ended up talking to Lauren online and I don't get to do that often. I've known her since college but there have been periods we didn't talk much so we did some catching up.
I had a revelation about The Shepherd's Crown the book I'm reading but I think what I'm going to do is make a note about it and write it up when I'm finished with the book. Reading Terry Pratchett is a good thing.
I'm listening to WUMB from Boston now. On Saturday afternoons they have a great show, Local Folk. It is just what you'd expect, music by folk musicians that live in the Boston area. They played Jesse Terry who lives in CT so they have a broad notion of local. I wish WFUV would do something like that; but of course they won't. Their new audience wouldn't like it. In some ways WFUV is my ex, we shared great times but we've moved on. At least I'm trying to move on. I can love the music on WUMB and Folk Alley but I don't have that connection that I had from the start with WFUV, even before I started volunteering. It's why I started volunteering.
What's today's breakfast? OH right, sausageeggandcheese on a bagel. There was a post that said that's one word in New York and so it should be.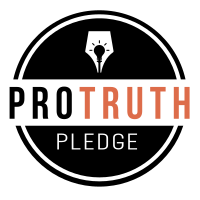 I signed the Pro-Truth Pledge:
please hold me accountable.







Memories: Not that Horrid Song - May 29, 2018
Wise Madness is Now In Session - May 28, 2018
The NFL and the First Amendment - May 27, 2018
On The Road Again - May 26, 2018
Oliver the Three-Eyed Crow - May 25, 2018



creative commons
This work is licensed under a Creative Commons Attribution-Noncommercial-Share Alike 3.0 License.
Horvendile September 12, 2015




Follow on Feedly