I became insane with long intervals of horrible sanity.
Edgar Allen Poe
The trouble with fighting for human freedom is that one spends most of one's time defending scoundrels. For it is against scoundrels that oppressive laws are first aimed, and oppression must be stopped at the beginning if it is to be stopped at all.
- H. L. Mencken
Many people would sooner die than think; In fact, they do so
-Bertrand Russell
What I have been telling you, from alpha to omega, what is the one great thing the sigil taught me — that everything in life is miraculous. For the sigil taught me that it rests within the power of each of us to awaken at will from a dragging nightmare of life made up of unimportant tasks and tedious useless little habits, to see life as it really is, and to rejoice in its exquisite wonderfulness. If the sigil were proved to be the top of a tomato-can, it would not alter that big fact, nor my fixed faith. No Harrowby, the common names we call things by do not matter — except to show how very dull we are ...
-James Branch Cabell
January 21, 2018 - 3:21 p.m.
Ich Bin Eine Frau
I've done a lot since Friday morning when I last blogged; I went to two concerts and a protest march. I'm doing nothing interesting today, so I will break it up into two entries; instead of one about Friday and the other Saturday, today will be marching and tomorrow, the music.
I have not been marching nearly as often as I was a year ago, but I couldn't miss the big Women's march. I figured I'd march with women and asked Carolann what she was doing. She was marching with Bev and the Brooklyn's Women's Chorus; that sounded good to me. Jane joined us. When we arrived, I saw that we were also joined by Judy, Amy & Scott, and Carolann came with Mark and Felix in tow. We started at 74th & Columbus and the March was on Central Park West but there were plenty of people marching to the March on Columbus. When we made the right onto 77th street we hit a traffic jam, the 77th street tributary was merging with the CPW river. Most of the time we were not marching, we were standing. I think it took about an hour to go that one block. Standing in a tight crowd is not pleasant but the company was great and so was reading the signs. Some we had trouble deciphering. We didn't get the sharks but eventually learned that the porn star that Trump paid to keep quiet said he was afraid of sharks. We never figured out, "Feminist not a Vegan." There was a picture of a cow. Anyone get that? Did trump say that all feminists were vegans?
By the time we made the turn onto CPW I was with Carolann, Mark, Felix, and Jane. We had become separated from the rest. We were in communication with Catherine & Jay who were coming from the East side of the park. It was difficult communicating as there were so many people on cell phones reception was spotty. We finally hooked up across the street from the New York Historical Society. That's was just half a block from 77th Street but it was another half hour till we reached there. It was a miracle we connected at all.
An hour and a few blocks later Jane peeled off to join a friend of hers who lives in our building. By total coincidence we had ended up sitting next to her on the subway ride. She had gone to join her group, that she never found, and called Jane.
We eventually started moving faster. We saw two marching musical groups. One was a women's drum corp. There were dancers around them. They were impressive. I wondered if Eve Sicular was among them. She is a Klezmer drummer and marched last year. I didn't see her. Then we saw a mixed gender band with horns and drums. I thought she and some of her bandmates might be there. I couldn't get a good enough view. If I weren't blind, it would have been easier. I later saw in her Instagram feed that she videoed the both groups. Eve were you playing? Did I see Pam on horn in the video? Anyone else I know? I had so many friends marching, I was disappointed that I didn't run into any of them.
Eventually Jay & Catherine left to walk across the park to their car. We joined them for a while then debated whether we should rejoin the march on 6th Ave. We walked south through the park as no matter what we did that was the direction we'd go. It was a literal walk in the park; doing that with friends is always fun. I love parks, I especially love Central Park. Carolann and company decided to head down 7th to the Q and thence home. This was four hours after the meetup. We were not being protesting dilatants. I went to 6th to rejoin the march. It had thinned out by them. I took a break to use the Hilton's bathroom. As the crowd was thinner and I had no one to hang with I left the march at 50th Street where I could catch the F train to Rockwood, my destination for the evening.
If you judged by my friends, half the people in the country marched. I was thinking about how many people from my birthday party did, Carolann, Mark, Felix, Bev, Jane, Alison, Sylvia, and Katherine that I know about. I'm sure there were more. I had friends marching in Nashville, LA, Seattle, Orlando, Ashville, Prescott, and South Carolina (don't know the city). If you marched in a different city let me know.
How do I know where people marched? Scrolling down my Instagram. I made a conscious decision to not post to social media and be in the moment. After the march looking at my IG and Facebook, I felt bad that I wasn't a part of the national shared experience. I shouldn't be, as that's what I'm doing now, not in pictures but in words. There is powered gain in not just protesting but sharing the protest to as wide an audience as possible. If a march happens in a forest and there is nobody there to see it, does it change the world?
We need to do more than protest we need to organize. One theme of the March was a blue wave. I am an idiot and didn't realize that the signs were supposed to be waves. We can march and make noise all we want but nothing will change while the Republicans control both houses of congress and the presidency. I would have liked to see people taking advantage of the gathering of 200,000 motivated people to organize. If someone was there recruiting I would have signed up to help register voters in Pennsylvania, or even swing districts closer to home. We need to target every vulnerable Republican representative and Senator. If young people, blacks, Hispanics, and Asians had the same turnout as older whites the GOP wouldn't have a chance. We don't even have to change people's views, except the view that voting doesn't make a difference.
I'm proud of everyone that went out there yesterday and made their voices heard. I'm proud of all of you that couldn't march but supported those that did. I've even proud of myself though I'll be prouder if I find a way to help get out the vote. Anyone know an organization that needs a writer? I'm pretty sure that I could get myself to do that.
Enough of that. I will give myself one day to appreciate what happened yesterday before worrying about what to do next. Give yourself a pat on the pack. Give your friends pats on the back. Women's rights are human rights, and we worked for them yesterday.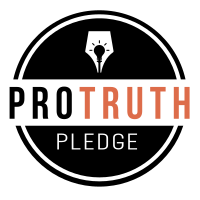 I signed the Pro-Truth Pledge:
please hold me accountable.







Memories: Not that Horrid Song - May 29, 2018
Wise Madness is Now In Session - May 28, 2018
The NFL and the First Amendment - May 27, 2018
On The Road Again - May 26, 2018
Oliver the Three-Eyed Crow - May 25, 2018



creative commons
This work is licensed under a Creative Commons Attribution-Noncommercial-Share Alike 3.0 License.
Horvendile January 21, 2018




Follow on Feedly