I became insane with long intervals of horrible sanity.
Edgar Allen Poe
The trouble with fighting for human freedom is that one spends most of one's time defending scoundrels. For it is against scoundrels that oppressive laws are first aimed, and oppression must be stopped at the beginning if it is to be stopped at all.
- H. L. Mencken
Many people would sooner die than think; In fact, they do so
-Bertrand Russell
What I have been telling you, from alpha to omega, what is the one great thing the sigil taught me — that everything in life is miraculous. For the sigil taught me that it rests within the power of each of us to awaken at will from a dragging nightmare of life made up of unimportant tasks and tedious useless little habits, to see life as it really is, and to rejoice in its exquisite wonderfulness. If the sigil were proved to be the top of a tomato-can, it would not alter that big fact, nor my fixed faith. No Harrowby, the common names we call things by do not matter — except to show how very dull we are ...
-James Branch Cabell
November 29, 2016 - 12:19 p.m.
Today I Am A Man
I have lots to do today. The weather is miserable so I'm glad I can do them without going out. There's great music tonight at Rockwood, Front Country and Michael Daves, but it's late and it would mean going out. I might venture out to have dinner at the Snug a few blocks away; it's half-priced burgers day. I'll see if I feel up to it.
Yesterday as I do almost every Monday I went to Manhattan to get bagels, shop at Trader Joe's, and go to my PO Box. I forgot the most important part of that; racing out of the house to just make the last bus that will get me there in time to make the Post Office. Except I didn't do that yesterday as I had one other thing to do and it lead to me doing the PO Box first. All I had in it was junk mail. I'm expecting some things from Amazon. Where are they?
When I got to Bagel Bob's I found to my dismay that they were out of my favorite, salt bagels; two stops, two disappointments. The next stop was picking up meds at a pharmacy for a friend that is out of town, that was in Chelsea on the west side, Bagel Bobs is south of Union Square. I could have taken the
west but it didn't save that much time so I walked it. My friend is a trans man and I was looking forward to picking up the drugs. I imagined the clerk looking at me and saying, "The beard came in nicely, he has male pattern baldness, too bad his voice still sounds like a little girl." That wasn't quite how it played out.
The pharmacy was at a clinic, the people were very nice. I asked where the pharmacy and waited on the pickup line. When I got to the window there was a lovely young woman there. She asked me for my name and date of birth. I of course gave the information for the friend whose prescription I was picking up. The lovely young woman said, "That's not your birthday." I got worried, was this not going to go smoothly? I knew I remembered the date, I remarked about it to my friend. The woman said, "You weren't born in 1981." Ahhh, there's that. I told her that I was picking it up for a friend who was out of town. She was fine with that. I added, "You thought I'm too young to be born in '81, right?" She agreed. I am totally shameless. Then came the time to pay. I told her how much it should cost and she saw this was far more. If this were my own prescription, I'd have had a major anxiety attack. I could be more philosophical with someone else. I knew what it would cost, I knew his insurance was fine, so this was just a slip. It was. The insurance info hadn't been factored into the price. There was just the co-pay. Whew. I wish I could act like that more with my own issues.
Now I had to mail the meds. My original plan was to go to the post office after the pharmacy but I left too late to do that. I used the magical power of Google to find a post office that was open close to the clinic. There was one just two blocks away. When I got there, the doors were open but the windows were closed. All that you could use was the self-service center. That's fine with me. The woman at the clinic even gave me a mailer. I couldn't find any address labels. Then I remembered that when you use the self-service center the stamp includes a mailing label with the address printed on it. It's a clever interface. You start with the zip code. Then you put in the house number. Then the first letter of the street name and it figured out the street! I imagine for some places it gives you a choice or you input the second letter of the street. Then you pay with a credit or debit card. There should be a cash option if there are no clerks available. It prints out the label/stamp. I wanted to address it with a sharpie but when I checked I had lost all three of my black sharpies. That's because I lend them to musicians to use to sign CDs when I do merch for them and don't always get them back. I also sometimes take their sharpies by accident so it balances out. I did have two silver sharpies on me but using one did not seem advisable so I just used one of the Post Office pens on a chain.
It was not that far from there to my next stop, Trader Joe's. I walked right by a friend's house. I texted her earlier with the approximate time I'd get there. She didn't get back to me so I figured she was out. I heard back from her near midnight, she hadn't gotten the message till then. Sometimes modern technology has glitches.
When I got to Trader Joe's I was faced with another monumental disappointment; pumpkin spice scones with maple frosting season is over! The horror. I'm going to have to find a new treat to bake. On the bright side, I had a very nice conversation with the woman in front of me on the line. She's from Marion MA so I told her about the song Entering Marion. Her brother's a musician that plays at the New Bedford Jazz Festival. I go to the Folk Fest. Making that little connection waiting on line makes the day better. But not as much as pumpkin spice scones with maple icing.
Last night I called Brian Norton and arranged to record our next radio show, It's All About the Music.. If all goes as planned, I'll be on the air Tuesday night from 7 PM to 10 PM. I'll be playing NERFA discoveries. That won't be the whole show. If I can get it together, I'll do a segment on harmony trios. This is where losing my CD collection hurts. I have to gather some of my favorites that I no longer have. If you are a musician friend that was in a trio you might be hearing from me. One of the things I'm going to be busy with today is putting together that show.
The other thing I have to do is create the event for the next John Platt's On Your Radar. I had hoped to do it yesterday but I was out far longer than I thought I'd be. That's the first thing I do after brunch. God make that rain stop. I know we need it but I find it affects my mood worse than it used to. Maybe it's because I'm in the sun room with huge windows so I hear and see it more.
I've been listening to John Platt's Sunday Supper on the WFUV archives. He played three songs from CDs that I brought back from NERFA for him, The End of America, The Bombadils, and the Brother Brothers. From what he said I'm expecting to hear them at a future On Your Radar. It's nice to have my taste validated. I know it happens often, I shouldn't need it, and I don't need it. But I enjoy it. That's a better way of putting it.
I bought challah yesterday so I might have French Toast for breakfast. Damn, I forgot to buy butter. We have but we are low. I didn't put it on my shopping list. Boo. I might just go for poached eggs on challah. I'll see how I feel when I get to the kitchen. Radio shows taking planning, breakfast doesn't.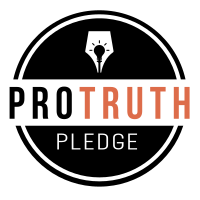 I signed the Pro-Truth Pledge:
please hold me accountable.







Memories: Not that Horrid Song - May 29, 2018
Wise Madness is Now In Session - May 28, 2018
The NFL and the First Amendment - May 27, 2018
On The Road Again - May 26, 2018
Oliver the Three-Eyed Crow - May 25, 2018



creative commons
This work is licensed under a Creative Commons Attribution-Noncommercial-Share Alike 3.0 License.
Horvendile November 29, 2016




Follow on Feedly