I became insane with long intervals of horrible sanity.
Edgar Allen Poe
The trouble with fighting for human freedom is that one spends most of one's time defending scoundrels. For it is against scoundrels that oppressive laws are first aimed, and oppression must be stopped at the beginning if it is to be stopped at all.
- H. L. Mencken
Many people would sooner die than think; In fact, they do so
-Bertrand Russell
What I have been telling you, from alpha to omega, what is the one great thing the sigil taught me — that everything in life is miraculous. For the sigil taught me that it rests within the power of each of us to awaken at will from a dragging nightmare of life made up of unimportant tasks and tedious useless little habits, to see life as it really is, and to rejoice in its exquisite wonderfulness. If the sigil were proved to be the top of a tomato-can, it would not alter that big fact, nor my fixed faith. No Harrowby, the common names we call things by do not matter — except to show how very dull we are ...
-James Branch Cabell
March 11, 2013 - 11:18 a.m.
Katechism
That was weird; somehow the zoom got changed on word so that what I typed looked tiny. I never touch that I always keep it 100%. What's the point of making it smaller?
I have a ton of pics on my phone. I need to get in the habit of downloading them. It would make writing easier. I have the ones automatically uploaded but they always need editing.
Last night I went to see Kat Quinn do a rare band show at Rockwood Music Hall Stage 1. That's the area I go the most often to hear live music but it's a little awkward getting there from The Last Homely House West of the Mountains. The F train is the only one that stops there and it takes two trains to get to the F. I can take a bus to the F but it doesn't run that often,. Most times the easiest way is walking three quarters of a mile to the F. I often do that coming home but rarely going into the City. Yesterday the timing worked out that I didn't want to take the bus so I took the walk. That reminds me I've been getting a lot of exercise. In the 20 minutes or so before I left I got plenty. I was doing laundry. That involved walking from my room on the third floor to the basement. I saw the clothes weren't quite dry so it was back to the third floor where I got dressed, Then it was back to the basement. I put the laundry in a basket and brought it back to the third floor. Then back to the basement to return the basket. Then I was going to leave but I realized I forgot my bag so it it was back up to the third floor. Then down to the first floor, then the three quarters of a mile walk. I felt rushed the whole time as I forgot to do my laundry earlier so time was tight.
Kat of course is totally worth it. I got there a later that I like and most of the seats were taken. there was one table in the corner where someone had been shooting a video of the previous act. I walked over there to grab the seat against the wall which faces the stage when I was done. He got annoyed that I was hovering waiting for him to finish even though I didn't say anything. I was annoyed that he was taking so long. He could have just cleared off the chair and let me sit. And I as I had to hover I couldn't talk to Kat like I wanted to. Finally he moved the chair over to the other side of the table and told me I could sit. of course there wasn't much room on the other side and it faced the wrong way so I didn't want to sit there. All it did for me was give me a place to put my bag. He took forever to finish. It wasn't like he had this huge setup. A camera and mic on a tripod. What really annoyed me was that when he was done he said, "You're welcome" Like I was supposed to thank him for clearing out after he was done so that the next act's fans could sit. I guess he would have stayed there for eternity if I that horrible person didn't want to actually sit.
While he was still clearing out but after he said, "you're welcome a lovely young woman came and sat against the wall in the chair right by the stage. That involved moving the close table. I didn't think of doing that. I should have. But I didn't want to sit there as it was so far to the side it didn't give a good view of Kat and the sound isn't good there. She then went to her friend, "you' can sit here" pointing to the spot that I had been waiting ten minutes for. I was feeling testy and I sort of snapped. "That's where I'm sitting." She offered her seat and I said in a testy tone, "I've been waiting for that spot!." In the end her friend found another chair in the corner that I hadn't seen and sat where I had been waiting. As I calmed down I started to feel guilty about how I acted. When a seat opened up in the front middle I moved over there. I did it so I could get some good pictures of Caitlin though it meant there was a mic in front of Kat's face. But I also was happy that the woman's friend moved into my seat. I decided that I was going to go over after the show and apologize for how I acted. I was not happy with myself. Kat then called him on stage to join her. He was a friend of Kat and the next performer.
When Kat was finished I went over and made my apology. She said I didn't have to but I said that I did. She said she was used to dealing with annoying people all day. I responded "but I don't want to be an annoying. That's not who I am. And I feel guilty." And yes I know I can be annoying but not that way. I try to be nice. In fact I try to be very nice. There are people that make me feel so good with little random acts of kindness. Sometimes all it takes is a smile. Sometimes it is realizing I have a problem, that I'm lost or looking for something and they offer to help before I ask. Sometimes it's seeing something bad happen to me and commiserating. I want to be one of those people and I try to be. I obviously don't always succeed.
I love Kat with a band.It consisted of her frequent partner in crime Caitlin Mahoney, another woman who sang and played piano, a guitar player and a drummer. The drummer's name actually stuck in my head, Chris Marshak (sp>). Why do I remember it? Because it is a combination of the names of two characters on the Friday the Thirteenth TV series. I didn't have my usual complaint that I couldn't hear the lyrics. It isn't like Amy Speace where the band is her natural habitat. I don't get the feeling that that's the way she hears the songs in her head. I prefer her with just a few friends singing but if she wanted to go with the band it would not be a bad thing.
On the surface she's two things that I'm tough on, sensitive chick with guitar and cute girl with uke. But she can still get my attention. She does it so well. Her lyrics have irony, they have depth. Her sound is infectious and she's charismatic. I am scheming to get her to the Budgiedome. She's just what I'm always looking for, a great talent that most of the audience has never seen or heard of. Except for some of the Boston contingent Kathy and the Pesky J. Nixon boys I don't know of any of my friends who have her on their radar. I take that back. Mike does too she played for him in at the Huntington Folk Festival. That's where I discovered her. Not performing but at dinner. I had met her once before when Kathy and she came to see Pesky J. Nixon on On Your Radar. We talked then but I didn't even know she was a performer till Huntington.
When the show was over Kat noticed me right in front of her and was puzzled because she hadn't noticed me there before. I let her know that she wasn't crazy that I changed my seat. Unfortunately that's all I got to say to her as the place was packed and lots of people wanted to talk to her. I figured that I see her often and let them have their chance. I wanted to talk to her about Falcon Ridge so I wrote her when I got home. Hopefully I'll see her again soon and we can talk then.
Now this is where I wish I had my pictures edited. When I looked at Caitlin my exact thought was "She's looking very Linda Ronstadt." I wanted to say that to her after the show but as I said the place was packed and I wanted to get out of there. I was thinking about that later and started writing a song, "She looked very Linda Ronstadt." I couldn't get much done last night but figured the song could go two ways. A song about first meeting my true love or a creepy stalker song about getting obsessed with a woman I just spotted in a public place. Of course by now I've forgotten the melody. Its so sad not having a brain.
After apologizing to the lovely young woman I left. I didn't even have room to put my jacket and hoodie on. I just carried them to the sausage place down the block where I had dinner. The place is called Links. The food is amazingly good. I had a kielbasa and smashed (not mashed) potatoes. the problem is every time I go it takes forever to get the food. They have a terrible system. I was the only one there and I waited 13 minutes for them to bring my sausage and then was told that the potatoes weren't ready. Now the staff is great. They gave me a bag of chips on the house to tide me over. But then I took a bite out of the sausage and it was cold. I told them that and sent it back. Again the waitress was great. She offered me a beer on the house. I took a coke. It took another 7 minutes for the sausage and then another two minutes for the potatoes to come out. I love the food but I know dinner there is going to take a long time and it's not like it's a nice sit down restaurant. You sit at stools at high tables. You usually order at the counter. This was the first time there was a waitress. They don't have that part figured out. I didn't get a check even though I sat around nursing my soda and playing on facebook on my phone. So when I was done I forgot I hadn't paid at the counter like I had done every time before this and left without paying. Good thing a woman out front needed directions. That slowed me down even though I couldn't help her. So I had only gone a short distanced when someone ran after me. As soon as I saw him I realized I forgot to pay. I let them know it was an accident. One of the things I did on my phone was change my review. First time I was there I was unhappy with the guy behind the counter and wrote about that. Since then I've liked the staff quite a bit so I pointed that out in my review and explained that I rated the service bad because they haven't figured out how to get the food to the customers promptly.
I wrote a lot more than I expected today but I think I said things worth saying.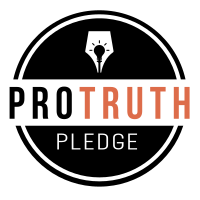 I signed the Pro-Truth Pledge:
please hold me accountable.







Memories: Not that Horrid Song - May 29, 2018
Wise Madness is Now In Session - May 28, 2018
The NFL and the First Amendment - May 27, 2018
On The Road Again - May 26, 2018
Oliver the Three-Eyed Crow - May 25, 2018



creative commons
This work is licensed under a Creative Commons Attribution-Noncommercial-Share Alike 3.0 License.
Horvendile March 11, 2013




Follow on Feedly