I became insane with long intervals of horrible sanity.
Edgar Allen Poe
The trouble with fighting for human freedom is that one spends most of one's time defending scoundrels. For it is against scoundrels that oppressive laws are first aimed, and oppression must be stopped at the beginning if it is to be stopped at all.
- H. L. Mencken
Many people would sooner die than think; In fact, they do so
-Bertrand Russell
What I have been telling you, from alpha to omega, what is the one great thing the sigil taught me — that everything in life is miraculous. For the sigil taught me that it rests within the power of each of us to awaken at will from a dragging nightmare of life made up of unimportant tasks and tedious useless little habits, to see life as it really is, and to rejoice in its exquisite wonderfulness. If the sigil were proved to be the top of a tomato-can, it would not alter that big fact, nor my fixed faith. No Harrowby, the common names we call things by do not matter — except to show how very dull we are ...
-James Branch Cabell
September 13, 2016 - 11:10 a.m.
Honesty Makes the Best Policy
Here's the dilemma I face every day. The Hydroxyzine make me sleepy. If I get up and move the effect declines but the one thing I don't feel like doing is getting up and moving. I'd much rather close my eyes and go to sleep. So what do I do? I compromise and sit here and write. I just closed my eyes and took a mini-nap, just a few minutes. The problem is I don't feel better when I'm done.
Yesterday I did get myself out of the house and into the City. I had no pressing need. I went just to get bagels. But it was also to get off City Island and moving and maybe give myself something to write about. I did something dangerous; I bought corn at the Union Square farmer's market. If that doesn't sound dangerous it's because you don't know my situation. I have Crohn's disease and there have been many times that eating corn has obstructed my small intestines and given me extreme pain. There are also symptoms that might make you sick if I wrote about them. Why did I do it? To provide some excitement to My Gentle Readers. That or the fact that there are few things I love more than fresh corn and my Crohn's has been quiescent. I've tried it a few times and not gotten sick. I did it in moderation, I bought three ears but only one is for me, the other two were for Jane and Bernie.
When I got home I made Nathan's hot dogs on the great Stop & Shop rolls and the ear of corn. The result? I think I'm fine but I'm not 100% sure. It takes time for the corn to work its way through to the end of the small intestine where the narrowing is. If I don't get sick I'm going to buy corn when I can get it fresh.
On the way there I had another unpleasant subway encounter. When I got on the t
at 125th street I was able to find a seat. I did have to say "excuse me" to the man on my right who had his legs spread and somehow his whole body spread. I then found out why, He fell immediately into a deep sleep. It was so deep that he was leaning on me with his full weight. I used my standard defense. I changed my position so that he was putting his weight full on my elbow. It took a bit. I didn't jab him; This scenario kept repeating. I would have been happy if he just leaned the other way onto the rail ad took his nap.
Tonight I'm going to John Platt's On Your Radar; the performers are; Great Caesar, Danny Greenburg, and Shawna Caspi. Shawna is the only one that I know but I know her well, she's a friend. She's come here all the way from Toronto and doesn't play here that often. You should come. I'm going to be at Rockwood Music Hall early because there's a WFUV Marquee Member Show with Okerville River at Stage 2 at 5:00. On Your Radar starts at 7:00 on Stage 3. I'll go over as soon as Okerville River is done and make sure that all the seats that need to be reserved are for On Your Radar. I's such a gorgeous day I should try and do something outdoors first. I could walk to the subway, that takes about an hour and a quarter. I think that's going to be my goal. Most of the walk is through Pelham Bay Park so it's pretty.
I keep telling myself that I was saving this for a slow news day and that's what today is; I do much to write home about. So now I'll turn back to the election. The latest Hillary kerfuffle to blanket the media is that she has pneumonia. This is a non-story. It does not make her health a legitimate election issue. She has a treatable disease that millions get every year. Even if she had chronic problems it shouldn't be an issue. Even if she hid chronic problems for political reasons it should not be an issue; so did the greatest president since Lincoln, FDR.
But that's not what I want to discuss. The relentless attacks from left and right has Hillary perpetually playing defense. It doesn't have to be that way. I don't support Hillary because I hate Trump. I certainly don't hate Bernie and I supported her over him. I'm not settling for Hillary she's my first choice. But I've written about that already, Sitting on Top of the Hill. Today I'm going to make one important point. Hillary is fundamentally honest in a way that's almost unheard of in presidential candidates. She does not lie about what she can accomplish as president. At least since Reagan every Republican nominee has cooked the books on their tax plans. They simply assume that the country's GNP will grow so fast that their tax cuts will pay for themselves. George H.W. Bush called this voodoo economics when he was running against Reagan. Many Democrats promise to cover not tax cuts but future spending by predicting unprecedented growth in the economy. Here's the basic truth known to economists and denied by most politicians; we don't know how to make huge sustainable GNP growth through government action. Economics is pain and anyone telling you differently is trying to sell you something. Hillary doesn't do that. Her budget proposals don't assume things that have never happened before. She's proposing many things that will cut down on some of the things dragging on the economy. Things can be made better. There just won't be miracles, unless she gets lucky so she isn't promising miracles. People don't find that exciting. They'd rather believe that utopia is right around the corner, so they call her uninspiring. I find that honesty inspiring. Things can't be made perfect but they can be made better and it is easy to make things worse and she's not proposing those things. Don't be stupid is a pretty good rule to follow.
Hey writing that shook some of the cobwebs out of my head. Not only that but I'm finishing this far earlier than usual, it's 11:03 now. As soon as I have this posted I'll go downstairs and make breakfast and coffee. The coffee will clear the cobwebs better than anything. I'll go with a bacon and eggs this morning. I know I just bought bagels but I have two packs of English muffins to get through before they go bad so I'll have one of them.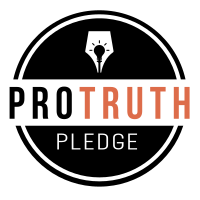 I signed the Pro-Truth Pledge:
please hold me accountable.







Memories: Not that Horrid Song - May 29, 2018
Wise Madness is Now In Session - May 28, 2018
The NFL and the First Amendment - May 27, 2018
On The Road Again - May 26, 2018
Oliver the Three-Eyed Crow - May 25, 2018



creative commons
This work is licensed under a Creative Commons Attribution-Noncommercial-Share Alike 3.0 License.
Horvendile September 13, 2016




Follow on Feedly