I became insane with long intervals of horrible sanity.
Edgar Allen Poe
The trouble with fighting for human freedom is that one spends most of one's time defending scoundrels. For it is against scoundrels that oppressive laws are first aimed, and oppression must be stopped at the beginning if it is to be stopped at all.
- H. L. Mencken
Many people would sooner die than think; In fact, they do so
-Bertrand Russell
What I have been telling you, from alpha to omega, what is the one great thing the sigil taught me — that everything in life is miraculous. For the sigil taught me that it rests within the power of each of us to awaken at will from a dragging nightmare of life made up of unimportant tasks and tedious useless little habits, to see life as it really is, and to rejoice in its exquisite wonderfulness. If the sigil were proved to be the top of a tomato-can, it would not alter that big fact, nor my fixed faith. No Harrowby, the common names we call things by do not matter — except to show how very dull we are ...
-James Branch Cabell
April 24, 2016 - 12:57 p.m.
Pesach-Pal
Chag Sameach. That essentially means happy festival as opposed to happy holiday. There are three festivals in Judaism prescribed in the Torah, Pesach, Shavuot, and Sukkot. We are now in the second day of Pesach; the only Jewish holiday I celebrate. Notice I didn't say "Chag Sameach to those that celebrate." I very much dislike that usage. It's accepting the War on Christmas mindset. I want you being happy whether you celebrate or not and I won't be offended if you give me whatever greeting you like if it's given with good intentions. I give my "Whee Festivus" without qualifications and not many people celebrate that.
So why do I celebrate Pesach aka Passover? Because I go to the best Seder in the world. Every year I make the pilgrimage to Norwalk Connecticut to the home of Louis and Sylvia. So now I have to give the inevitable tale of the commute. I take the MetroNorth up there which means getting to Grand Central Terminal. That's a 35-minute trip, straight run on the
; just 10 stops. That is when they aren't doing construction. The
was not running in Brooklyn this weekend. That meant taking the
which runs local and switching to the
at Fulton Street. That's a free transfer but a Byzantine connection that involves walking up a level, a long passage, down two levels down to the
, walk almost the entire length of the platform, through the fancy new Fulton Street Rotunda till you finally hit the
platform. I can practically walk to the Terminal in the time it takes to make the transfer. But I did time in just about perfectly. I wanted to get there early in case there was a line to buy tickets. There was at the close bank of machines but not at the further one. It's often that way. On busy days use the ticket machine bank on the West Side of Grand Central, the side closest to the Shuttle station.
I was a bit anxious as my phone decided to not work. I can use all the smart phone features but not make or send calls or texts. I sometimes get a message saying there's no network. I was worried not just because my phone isn't working, it's still not working, but because I was worried about finding whoever was picking me up at the station. But that was no problem. I remembered where to sit on the train and when I got off saw Louis and his daughter Denny. There were a lot of people being picked up and we went in two cars.
When I got there I thought I beat Alison there; I didn't see her car. In my mind there's always a race to see who gets there first. She doesn't play the game but she won anyway. She got a new car.
I was going to go through the people I know there but I'm blanking on some names. I hate being an idiot. Well there was Marjorie, Finn, Leah, Corinne, Louise, Marty, Charlotta. And people at the other end of the table so it's harder to remember.
Every year I tell you it's the best Seder and the reasons don't change. Know what it's like? a music jam. We all have our parts to read from the Haggadah; there are parts where we all join in. There's are parts that are scripted and parts that are spontaneous. We take the Pesach message of freedom very seriously and inclusively. There are frequent calls for freedom for everyone not just ourselves. As we go through the Haggadah I always find things relevant to today. Doesn't this remind you of what Trump says?
"The Egyptians treated us badly," as it is said: Come, let us act cunningly with [the people] lest they multiply and, if there should be a war against us, they will join our enemies, fight against us and leave the land."
Next year I might have to take notes during the Seder of points I want to make here. I got that from the Chabad Haggadah and that part of the translation is the same as we use but our Haggadah is literally cut and pasted from many sources. As a regular mine has my name on it.

We can also be silly. You know if I love it silly will be involved. Here are some things that are on our Seder table.
What you see there are a mantis puppet playing the part of a locus, masks representing the plagues of cattle disease and blood, a lady bug, don't remember a plague of ladybugs but it's there, a kazoo and a finger puppet of a lion to represent the plague of beasts. I put that on the kazoo to try it as a mute, put it down, and realized it looked more like a kazoo condom. Practice safe humming!
We had special red/pink Hawaiian salt. I did some googling and discovered it was mixed with red volcanic clay. It's supposed to have healing properties. If you put it in chicken soup it will revive the dead. I have not tested that claim.
Pesach is very much Jewish Thanksgiving. We even use the term, one of the cups of wine is the Cup of Thanksgiving. The entire idea of the holiday is being thankful for being released from bondage. I don't believe that god released it. I don't even believe we were slaves in Egypt. If we were we somehow managed to leave no record in Egypt. But I am thankful to be free and I wish for everyone to be free. I'm also thankful that I have people to celebrate with. My only blood relative there is my sister Alison but everyone there is family in a broader sense. That makes Matilda, Denny's dog my dog-in-law. Matilda was there too.
I am going to be driven from my real family. I almost forgot to talk about food. I talked about salt but I don't think condiments are sufficient. Maybe it is. If I had talked of salt but not the rest of the meal Dayana!
I will pass over the green vegetables just as the angel of death passed over the houses of the Jews. I ate lemon chicken, brisket, mashed potatoes and roasted potatoes. Of course there was matzoh. For dessert there was chocolate mousse cake! There also the squares with chocolate and crushed heath bar. Or were they crushed Butterfinger. Now I think it' was Butterfinger.
There was also singing. That's why there are kazoos for those that don't know the words. We always sing Dayanu and whip each other with scallions to represent the lashes of the taskmasters each time we say "dayanu." We also sing Eliyahu HaNavi, L'Shanah Haba'ah, and a rousing rendition of Chad Gadya.. We race to sing each verse faster than the previous one. Alison videoed it this year. Maybe I'll be able to post it.
We got an early start so had an early finish to the Seder, we were not halakha, starting at sundown. Once again it took us two cars to ferry us to the train station. It was crowded so we couldn't all sit together. Last year I had fun riding home with Denny. This year I was by myself which worked out fine as I conked out very quickly and slept most of the way.
Every year like Jews throughout the world we say "Next Year in Jerusalem." If I won the mega-millions, I really would fly us all there for Pesach. I'd just have to make sure that they remember to pack our Haggadot and the toys.
I was a good Jew and made matzoh brei for breakfast yesterday. Today's menu is bacon and eggs. Tradition is all well and good but not more important than bacon.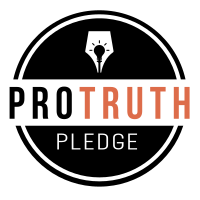 I signed the Pro-Truth Pledge:
please hold me accountable.







Memories: Not that Horrid Song - May 29, 2018
Wise Madness is Now In Session - May 28, 2018
The NFL and the First Amendment - May 27, 2018
On The Road Again - May 26, 2018
Oliver the Three-Eyed Crow - May 25, 2018



creative commons
This work is licensed under a Creative Commons Attribution-Noncommercial-Share Alike 3.0 License.
Horvendile April 24, 2016




Follow on Feedly