I became insane with long intervals of horrible sanity.
Edgar Allen Poe
The trouble with fighting for human freedom is that one spends most of one's time defending scoundrels. For it is against scoundrels that oppressive laws are first aimed, and oppression must be stopped at the beginning if it is to be stopped at all.
- H. L. Mencken
Many people would sooner die than think; In fact, they do so
-Bertrand Russell
What I have been telling you, from alpha to omega, what is the one great thing the sigil taught me — that everything in life is miraculous. For the sigil taught me that it rests within the power of each of us to awaken at will from a dragging nightmare of life made up of unimportant tasks and tedious useless little habits, to see life as it really is, and to rejoice in its exquisite wonderfulness. If the sigil were proved to be the top of a tomato-can, it would not alter that big fact, nor my fixed faith. No Harrowby, the common names we call things by do not matter — except to show how very dull we are ...
-James Branch Cabell
March 10, 2016 - 12:08 p.m.
It Takes All Types
It was a beautiful day yesterday and I never left the house. You know that's a bad sign. I decide it's time to go out and I get hit with a wave of fatigue. That's all in my mind of course and lack of sleep doesn't help. At least I sleep through the night.
And at least I make great breakfasts. I'll give my usual fiat that I might be fooling myself but putting MSG on a sausageeggandcheese on a bagel kicks it up a notch. It's what I had yesterday and I'm tempted to have it again today. I'd like to see a video of me when I'm cooking. I often stop and stare into space while I try to remember the next thing I need to do. I keep a lot of things in my room and will walk in it five time to get things and come out with what I wanted only two of them. More often it's walk in, stare into space while I try to remember what I wanted then walk out with something else. Yet for the most part I get it all done in the few minutes it takes to cook something.
Every day shortly after I write I remember what I wanted to write about. I bet that happens today. I remembered it happened yesterday but I don't remember what I wanted to write about.
So I'm going to go with an idea I often think about but was just reminded of by a friend's post on FB. She wrote about an expensive concert headlined by the backup band of a 60s rock star. We don't even know how many if any of the original members are in the band. It would be like going to see "The Attractions" without Elvis Costello doing the music he did back then. People are willing to pay big bucks to see that along with some acts that had a a few big hits in the 60s. Why? It's because they are looking something completely different from me from music. They aren't going to hear great music; they are going to relive their youth. To them the music is just the smell of the madeleine.
I am very rarely interested in nostalgia acts even with the original stars even when they used to make great music. There are exceptions, some people can make it fresh. Some I never heard live and want the opportunity. But too many remind me of Sinatra in the 70s when he was basically Sinatramania, not Sinatra but an amazing simulation. Of course several of my friends saw Joan Baez yesterday and I was jealous. I've never gone to see Joan and not loved the show. But it is not because I loved her when I was young. I saw her at the first concert I went to on my own, Bob Dylan's Rolling Thunder Revue, but that's not how I think of her. In fact, I almost wrote that I never saw her when I was young.
There are a lot of different ways for different people to listen to music and I have to work hard to remind myself that being different than me doesn't make them wrong. But sometimes they are just wrong. At least that's a lot more fun to write about.
Think back to the cliché from American Bandstand. They'd ask the kids what they think of the song and they'd say, "I like it; it has a good beat. You can dance to it." That thinking never goes away. People picked up on it enough to eliminate pretty much everything but the beat. You very often hear it blasting from cars.
I'm going to be lazy and not try to find it in the Lord of the Rings but there's a line in it that what Hobbits want from a book is things they already know laid out plainly. That's what a lot of people want from music. They don't want anything that makes them stop and think. They want the music to be comfortable.
It's a division that goes way back, Salieri will always be more popular than Mozart to contemporaries. Like the emperor most people don't want music with too many notes.
Ages ago I went to a concert with many bands. One did a cover that was note for note the same as the original, the arrangement was unchanged. Another band did a total reinvention of a song that was exciting and fun. Guess which was more popular. The first band gave those people what they wanted. It's not art but it does serve a purpose. Those people should be able to hear what they enjoy. But I felt it my duty to explain to a friend of mine why the second act was so much better than the first.
Keeping to comfort there are the nice people playing songs nicely. There is always a market for that. Go to a coffeehouse or a festival and they will always have their fans.
They are perfect for house concerts Just not for me.
I'm proud of my name for the next type, ermine violins. Do you know where that's from?
Go to the 44 second point and watch from there. Nope, I don't want to relive my youth at all.
Ermine violins are nice and soft and furry and make a pleasant sound. For some of the musicians I'm talking about you can replace furry with have good hair but that part doesn't quite work. Some are bald.
When I listen to music it extends over time. A pleasant sound fulfils me for a few moments but that's all. What I listen for is music that develops. I want to hear the changes rung. I want to go from A to Z with stops at all the points in between. I want to hear layers, for there to be details that take repeated hearings to pick up.
Of course that's not all I want from music. I'm a sucker for a silly humor. Few things win me over like being funny. But it's not that different, being funny so often involves making you look at something from a new angle. That's where the humor is. There is depth.
Then there is my versions of "it has a good beat you can dance to it." Something like "Iko Iko" or so much of Great Big Sea go straight past my conscious mind and straight to my emotions.
We experience music differently and I accept that. One consequence is that when everyone around me loves something that I don't I feel alienated. "You can't hear how bad that songwriting is?" "You don't get how brilliant that is?" When I'm with someone that does get it, loves the same things I do it's such a great bonding experience. Hating the same music is a bonding experience too. I was going to end with something satirical but instead I'll move in one other direction. Making music together is one of the greatest bonding experiences. It's why so many religious services include singing. Harmony is magic and making harmony is greater magic. So I'll try and focus on harmonizing with others. With the occasional cutting remarks because hell it's so much fun.
I was thinking of writing a typology of Republican politicians but it looks like instead O write a typology of music listeners.
I'm doing bacon and eggs today. Yeah I changed my mind from earlier. I have a lot more bacon than sausages.
Wow I haven't even posted today's blog and 44 people have already read Wise Madness today. I must have said something right in describing one of my old entries when I posted it last night.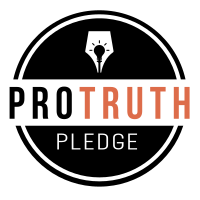 I signed the Pro-Truth Pledge:
please hold me accountable.







Memories: Not that Horrid Song - May 29, 2018
Wise Madness is Now In Session - May 28, 2018
The NFL and the First Amendment - May 27, 2018
On The Road Again - May 26, 2018
Oliver the Three-Eyed Crow - May 25, 2018



creative commons
This work is licensed under a Creative Commons Attribution-Noncommercial-Share Alike 3.0 License.
Horvendile March 10, 2016




Follow on Feedly