I became insane with long intervals of horrible sanity.
Edgar Allen Poe
The trouble with fighting for human freedom is that one spends most of one's time defending scoundrels. For it is against scoundrels that oppressive laws are first aimed, and oppression must be stopped at the beginning if it is to be stopped at all.
- H. L. Mencken
Many people would sooner die than think; In fact, they do so
-Bertrand Russell
What I have been telling you, from alpha to omega, what is the one great thing the sigil taught me — that everything in life is miraculous. For the sigil taught me that it rests within the power of each of us to awaken at will from a dragging nightmare of life made up of unimportant tasks and tedious useless little habits, to see life as it really is, and to rejoice in its exquisite wonderfulness. If the sigil were proved to be the top of a tomato-can, it would not alter that big fact, nor my fixed faith. No Harrowby, the common names we call things by do not matter — except to show how very dull we are ...
-James Branch Cabell
July 19, 2015 - 11:01 a.m.
Giddty for Giddens
On the good side I woke up early enough so that I could hear all of John Platt's Sunday Breakfast. That also means I can start writing early. On the down side it means I didn't get enough sleep. I'll be out tonight and I don't want to crash. If I'm lucky I'll crash before then and take a nap.
Yesterday I went to see Rhiannon Giddens at Prospect Park. Her show at Town Hall was not just one of the best I've been to this year but one of the best ever. I was not going to miss a free show in my home borough. The gates opened at 6:30 but it's Saturday and she's a hot commodity and I like sitting down front so I got there a bit earlier, 3:15. My goal was to be the second person on the line. I was! The first was Karen. Know I don't know her but we introduced ourselves and got friendly. 15 minutes after I got there Joe and Kevin arrived. I don't know them either. But we all pretty much had a party. Fred was next. I knew his train got in at 3:45. At 4:05. I said, "Where's Fred?" on "Fred." My phone vibrated, it was Fred. For some reason the message didn't come through. The
and
trains weren't stopping at Grand Army Plaza and he messaged to tell me that. I knew it because Joe and Kevin had told me.
The crowd grew much slower than any of expected. Sometimes the crowd arrives much earlier. I thought she would attract a crowd like that. Maybe because it was a classic lazy hazy day of summer.
As I bet you guessed Chris joined us and then shortly before we went in two friends of Chris's. Alison and her friend Gill (pronounced Jill) were delated by the train and we had to save seats for them too. We ended up second and third row center. Not bad at all. By total coincidence Bev and Robin ended up sitting the row behind Chris and Fred. I sat in the row in front with Alison and Gill. That was nice. Ellen who I sort of spotted last time there came over and said "hi." I don't see well enough to be sure it was her the last time, it was. Eliot was up in the "Friends" seats in front of us. When I said second row I meant of the hoi polloi. Fred spotted Liam and Glenn spotted Fred. But I didn't see them. I went over the WFUV table and said hello the students working it Hannah and and and another old traditional name. I hate not having a brain.
The opening act was Joe Henry. I was looking forward to that. He used to tour with Tracy Grammer. I have seen him on his own and with other people I know. He was playing 1952 Vincent Black Lightning when the tornado hit at Falcon Ridge. I didn't really enjoy what he was doing. He was with a full band. I never saw him like that either. I was so happy he got a big gig like this but sad that the price he paid was to make worse music. Then I realized. No that was Jim Henry I was thinking about. This is Joe Henry who I never liked. But I have confused their names before. I never confused Phil Henry with them. I know him much better socially and his name is not J _ _, I might be an idiot but on the bright side it gives me blogging material.
During Joe's Set someone walked to the front of the aisle right up against the fence separating us from the aristocracy. He didn't block my view, I was at the center, but he blocked the view of lots of people in the next section. That's the second time I came across someone like that this year, the other was at Clearwater. People were of course asking him to move. There were cries of "down in front." I wasn't blocked but I was close to him and asked him to move. He said, "It's a free show. I'll give them their money back." He also said. "The rest of you don't even know who he is." Well yes that was true of me but not other people. If he actually cares so much about getting a good view of Joe Henry he would have gotten there early enough to get a seat like the people whose view he was blocking did. There was a volunteer in the high society section in front of us. People asked him to get the guy to move. He said, "He's allowed to be there." Then an auxiliary cop came and threatened to call the real cops and have him arrested. The guy said, "that security guy said I could stay'" pointing at the volunteer. He ended leaving then coming right back but sitting in the aisle. Which is still not allowed as it blocks the aisle. Finally another more senior volunteer came and made him move in no uncertain terms. Threatened to throw him out. The auxiliary cop was there to back him up. He was escorted away and people applauded.
All was forgotten when Rhiannon came on. There are no words to describe her since men have forgotten the language that the elves taught them. Where to begin? Yes her voice blows you away and her singing, which is not the same thing, is as good as anyone. The voice is the instrument, the singing is playing the instrument. She hits all the notes dead on; both musical and emotional. She's filled with energy, she's charming, and she's my Brooklyn home girl. Oh and she plays banjo and fiddle.

Fred and I had been discussing how many musicians have nothing to say; there is no there there. At a Rhiannon show there is a lot of there there. She's a TARDIS, bigger on the inside than on the outside.
You know how there are some people whose genre is hard to pin down. She's not one, I know what she's playing but she changes genres every few songs, country, slave songs, Appalachian, Scottish mouth music, Great American Songbook, she does it all and she does it all not well but great. She should sing "Anything You Can Do I Can Do Better." With her it's true.
She was in The Carolina Chocolate Drops, now they are her band along with an added bass player and drummer. I have to give a special shout-out to my man Rowan Corbett who was in ilyAIMY. He's played Budgiedome. He's in ilyAIMY so you know he has nerd cred. And he plays the bones like a demon.
Everyone in the crowd was lifted by the show. I love when you can feel the excitement in the air. We all shared something special.
After the show I walked back to the
to the
with Fred because I had to shop at Pathmark at Atlantic Terminal where the LIRR is.
I celebrated by making an ice cream soda when I got home.
Today's my birthday. I'm feeling down and anxious today. I'm sure I'll feel better when I see Bobtown at Jalopy tonight. What do I make for my birthday breakfast? I will keep it simple, bacon and eggs. Bacon is celebratory. Maybe this will be the year that I get my official Red Ryder carbine action air rifle with a compass in the stock and a thing to tell the time. I'm not counting on it.
I can't make my coffee yet. My French press is busy with cold brew and it won't be ready for three and a half more hours. Do I cut it short so I can have hot coffee with breakfast? I'm hungry now. I think I'll take a shower, make breakfast, and not start making coffee till I'm done with it.
Wait one more thing. This is good as I'm feeling down. The other day when I was buying my coffee grinder at target there was a woman with two young daughters behind me in the checkout line. She had bought a 64 box of Crayola Crayons with the sharpener. The kids were so excited. The older sister was explaining to the younger that when the crayon gets round you can put it in the sharpener and bring back the point. They were very excited. One way to be happy is to be like them and remember that there is nothing better than a 64 box of Crayola Crayons with a sharpener. Yesterday I saw Rhiannon but I saw Kristin on Thursday and I'm seeing her again tomorrow so I'll post this.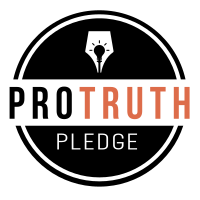 I signed the Pro-Truth Pledge:
please hold me accountable.







Memories: Not that Horrid Song - May 29, 2018
Wise Madness is Now In Session - May 28, 2018
The NFL and the First Amendment - May 27, 2018
On The Road Again - May 26, 2018
Oliver the Three-Eyed Crow - May 25, 2018



creative commons
This work is licensed under a Creative Commons Attribution-Noncommercial-Share Alike 3.0 License.
Horvendile July 19, 2015




Follow on Feedly