I became insane with long intervals of horrible sanity.
Edgar Allen Poe
The trouble with fighting for human freedom is that one spends most of one's time defending scoundrels. For it is against scoundrels that oppressive laws are first aimed, and oppression must be stopped at the beginning if it is to be stopped at all.
- H. L. Mencken
Many people would sooner die than think; In fact, they do so
-Bertrand Russell
What I have been telling you, from alpha to omega, what is the one great thing the sigil taught me — that everything in life is miraculous. For the sigil taught me that it rests within the power of each of us to awaken at will from a dragging nightmare of life made up of unimportant tasks and tedious useless little habits, to see life as it really is, and to rejoice in its exquisite wonderfulness. If the sigil were proved to be the top of a tomato-can, it would not alter that big fact, nor my fixed faith. No Harrowby, the common names we call things by do not matter — except to show how very dull we are ...
-James Branch Cabell
January 30, 2017 - 3:57 p.m.
Saving the World One Song at a Time
I got home late and went to sleep much late then woke up early. In other words, I'm sleepy. There are three things I can do. Go back to sleep, drink coffee, or write anyway and use the sleepiness as my excuse for not winning the Pulitzer Prize. I'm going to try the third option but I might …
I fell asleep in the middle of the sentence. When I woke up there was a page full of w's; I fell asleep with my fingers on the keyboard. I must have held down the key. Good thing I wasn't driving. But now I'm back. I'm rested so this will win the Pulitzer Prize.
Last night I went to a special concert. I have a problem. This is the third or fourth concert in a row that I've called "special." Every concert is not special. Don't say, "all music is special;" if you do that "special" loses all meaning. The problem is that people will take the first concert I don't call "special," as inferior. From the first time, I noticed it I figured that the first post that wasn't canonized must have been terrible. So here is the deal. I am not going to call any concert special for a at least four weeks. It might be longer.
OK so where was I? Oh yeah.
Last night I went to a special concert. Folk Fights Back--A benefit for Earthjustice!. Earthjustice, "We exist because the Earth needs a good lawyer," are fighting at Standing Rock. That's just a small part of what they do. They use the courts to fight the battles that can't be won any other way. This is a vital with Trump in the White House and the Republicans in control of both houses of congress.
Folk Fights Back is a movement. As this was going on there was a sister concert in Nashville raising money for The Southern Environmental Law Center. Each event will raise money for law firms fighting for different causes that are endangered by the current administration.
It was organized by Lily Henley with the help of Amy Helfand. Almost everyone I am going to mention has appeared in Wise Madness, many multiple times. This is one of my tribes.
The lineup in the order of appearance was, Jean Rohe, Phoebe Hunt and Dominick Leslie, Hannah Read, LilyDuncan, Stephanie Coleman & James Shipp, Courtney Hartman, and The Brother Brothers.
Now for food and coffee. I'll be back as soon as I'm finished. You can follow all the links I've given and find out about the musicians and Earthjustice in the meantime.
I'm back and forgot to start writing. Yes, that's me in a nutshell. Good thing I still had the Brother Brothers page open which reminded me of what I plan on saying about them. My first thought was "Oh No, I forgot to say it. Then I realized I hadn't gotten anywhere near that part of the entry.
I knew I was helping out but wasn't sure what I'd do, I offered to do merch, my usual job, do the door, or stage manage. In any event I wanted to get there before doors opened. The show was at 7:00 and I figured that would mean 6:30. I assumed wrong; it was 6:00. It was then 3:10 so you'd think that would not be a big deal but it is. My original plan was to stop at Trader Joe's to get eggs and coffee, two necessities, I'm down to Maxwell House. Then grab some pizza or cheap fast food. The BX 29 comes only once every half hour. I couldn't make the next one as I wasn't dressed. That meant not leaving till 3:51. The show was at Jalopy. I live on City Island, for those of you not conversant with NYC geography that's pretty much the other end of the world for someone traveling by public transit. It's even harder on a weekend when there's the construction. I take the Bx 29 to the
to 59th street, then walk 3 blocks to the
. The F to Jay Street where I catch the B 61. I just realized I'm an idiot, I walked the five blocks to the bus stop I usually use when taking the
. The stop before that is half a block from the
. I need to remember that in the future. Oh, I'm a double idiot, of course I didn't just realize I'm an idiot. I've known that for a long time.
When I got to Jay Street I had no time for Trader Joes or dinner, not even dinner on the run. I raced to catch the B 61. I didn't have to race but I wanted to make sure. I ended up getting to Jalopy at 6:02. Amazingly with all my anxiety that kind of thing doesn't bother me very much. I do the best I can, I'm punctual as a rule. I'm not obsessed. I don't want to be 2 minutes late but I can live with it. The truth was I could have stopped for dinner. I was doing merch and there wasn't much for me to do for the next half hour when artists started putting their merch out. So, I socialized. I knew everyone performing but Dominick and Courtney. A few people showed up early but most right before or right after the music started. The front row was pretty much empty so I took a seat in the first row of pews.
I wish there were a way for me to count how many words I have written on topic. I'm pretty sure I've written enough about Jean for a monograph. I know her well enough that I tried to guess what songs she'd play. I got two right though I might have been an influence in her playing Nobody Told Me to Dance. The song is about an event during the early days of the Arab Spring in Syria. Though the events were triggered by the murder of a singer of protest song, it's upbeat. It's about music striking fear into the hearts of oppressors, specifically Assad. This was a natural coming on the heels of Trump barring Syrian refugees. The other song I knew she'd play was National Anthem: Arise! Arise! The third was New Year. That's it for remembering what people played. Jean was first and I know her music the best.
Next up was Phoebe Hunt and Dominick Leslie. I just did some research and found out I was wrong about how I know Phoebe. I thought I met her at Falcon Ridge. I introduced myself and told her that and she said she only played there with a band. I looked up her name in the search box below this entry and discovered it was at SMAF she performed in a duo with Dave Madden. This is what I had to say about her;
Phoebe is my other big discovery. I love my fiddlers, she also plays guitar. Dave plays guitar, keyboard and melodica! They sounded like different bands on different songs. They started sounding like Appalachian fiddle music, then switched to Norah Jones style jazz. Phoebe's voice totally changed. When she sang jazz, she reminded me of Madeleine Peyroux. That is high praise indeed.
I was so impressed with her that I expected her to become part of my musical rotation but that was not to be. I didn't even know that she's living in Brooklyn now. Starting now she's part of my musical life.

Hannah Read was one of my top discoveries of last year. I saw her in December on a bill with Rachel Ries. I compared her singing to Sandy Denny. She told me yesterday that Sandy is her favorite singer. I love when I get things right. If you talk to her for three seconds, you'll pick up that she's Scottish. She sings Robert Burns songs. She sings her own songs. She plays fiddle. As I've now seen her twice in less than two months she's an official part of my musical rotation.

Finishing off the first set was Lily and Duncan, that's Lily Henley that put the show together and Duncan Wickel. Lily is the one that organized the show. They are both fiddlers, last night Duncan played mandola, or was that octave mandolin? while Lily fiddled. On the last song, Duncan fiddled and Lily sang. Is Lily in my rotation? She should be. I love her every time I see her but I don't see her that often playing. This is because I tend to learn about shows on Facebook and Facebook is not reliable. More often I see her in the audience with me. We travel in the same circles. I've tagged her a few times recently promoting this show and shared her posts so perhaps Facebook will show me her posts more often. I didn't even have any of her albums till she gave me one last night. I'm listening to it now, fantastic. I've seen Duncan once, a few days after I heard about him from Lily. He's in the same circle. I don't know why I have not seen him more often. He was another discovery of last year. They did a diverse set, from trad to high energy rock. Rock with one fiddle being all the instrumentation. That song was the first set finale, a good choice as it got everyone moving. It got me moving back to the merch table.

I knew everyone on the stage but not that many in the audience. I was disappointed as I invited all my music lover friends in the area. I don't think anyone was there because I invited them or they heard about it from me. I think there were just two friends there, Garland and Stephanie. I was surprised that Stephanie wasn't on the bill. She was invited but thought she would be out of town. After I asked I heard everyone else that knew her if she were playing. She handled it without visible exasperation. She's a better person than I am. Amy was there of course but she helped organize it.

Merch was a bit complex with seven artists and no bank but I managed. I kept all the money together and just kept track of how many CDs of each I played. The numbers balanced so I didn't forget to tally any of them. Yay me. I liked when people would ask me who sang a particular song or looked a certain way and I could point them to the right CD.

Many people arrived after I sat down for the first set, the place was packed. I didn't put anything on my seat so that paying customers could take it, they did. I hovered in the back and when a seat in the back opened up took that. I often see shows at Jalopy like that when I do merch. I can't see as well but I hear fine and nobody can see me dancing.

Stephanie Coleman and James Shipp kicked off the second half. I think this was their first public performance together. I know them both well. Steph plays with just about everyone in the trad/old time scene. I've seen her most often with Kristin Andeassen. James plays vibraphone and various other things in Jean Rohe's band. They were joined by a third musician whose name I didn't catch. Stephanie played fiddle and James assorted percussion instruments, none of which I could name. One was a wooden box, not a cajon, this was much smaller and cubicle. The other looked like a stainless-steel conga but there was no skin head. You hit the side of it. On one song, the third musician played the weird steel drum. This was a new world for Steph, not the old-time instruments she's used to playing with. She pulled it off. I knew she would. She can play with anyone. What did they play? Old time music with new time instruments.

Courtney was the only act I was totally unfamiliar with. She was the only performer who was a singer and a guitar, the mainstay of the folk world. Here she was the one not like the others. I have been cheating this entry and using what I already know about the artists. Hey I have already written over 2000 words, I need shortcuts. I only heard three songs by Courtney and I didn't find a hook to hang my writer's hat on. All I can say is that she was very good and I'll see her again.

The Brother Brothers I've seen a number of times but never for a full set. That's a shame as they are fantastic. Now for the description I wanted to use; think of their singing as Garfunkel and Garfunkel. They are identical twins so they can pull that off. I knew Adam and David Moss first from their accompanying other musicians, Adam on fiddle and David on guitar. I didn't even know they had beautiful voices till I heard them together. Oh, and I lied earlier. I know one song they did, Bird in a Tree. They led the finale where everyone came on stage and joined them even though they were the only two that knew the song. They wrote out lyrics for those taking a verse and the instrumentalists just improvised because that's that they do. The song, perfect for today, was He's the President but I Don't Care. It is not an original. It was not written for our current President but for Ronald Reagan. It fits Trump even better. Hey I found a YouTube of it by Timebold from 2008. I didn't see them last night but you need to hear this song. This should be the anthem of the resistance.

After the show, I sold more merch and I schmoozed. I didn't get to say proper goodbyes as I checked my phone and saw the bus was coming in 6 minutes. I gave the musicians their money and said goodbye to those but not the rest. I missed the last bus home anyway so I should have stayed and hung out.

I wasn't going to talk about food but earlier I told you I didn't stop for dinner. I got home and 12:30 and still had not eaten. I was famished. I went for a quickie meal standby, grilled cheese with Taylor ham. It was delicious but not as delicious as that evening's music. For my money, this was a good as any of the big all-star fund raisers. These were Brooklyn all-stars. Anyone not from Brooklyn? I don't know where a few of the performers live. I could survive on a diet of nothing but Brooklyn based musicians.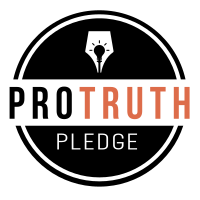 I signed the Pro-Truth Pledge:
please hold me accountable.







Memories: Not that Horrid Song - May 29, 2018
Wise Madness is Now In Session - May 28, 2018
The NFL and the First Amendment - May 27, 2018
On The Road Again - May 26, 2018
Oliver the Three-Eyed Crow - May 25, 2018



creative commons
This work is licensed under a Creative Commons Attribution-Noncommercial-Share Alike 3.0 License.
Horvendile January 30, 2017




Follow on Feedly