I became insane with long intervals of horrible sanity.
Edgar Allen Poe
The trouble with fighting for human freedom is that one spends most of one's time defending scoundrels. For it is against scoundrels that oppressive laws are first aimed, and oppression must be stopped at the beginning if it is to be stopped at all.
- H. L. Mencken
Many people would sooner die than think; In fact, they do so
-Bertrand Russell
What I have been telling you, from alpha to omega, what is the one great thing the sigil taught me — that everything in life is miraculous. For the sigil taught me that it rests within the power of each of us to awaken at will from a dragging nightmare of life made up of unimportant tasks and tedious useless little habits, to see life as it really is, and to rejoice in its exquisite wonderfulness. If the sigil were proved to be the top of a tomato-can, it would not alter that big fact, nor my fixed faith. No Harrowby, the common names we call things by do not matter — except to show how very dull we are ...
-James Branch Cabell
May 15, 2018 - 12:50 p.m.
We're Right and You're Evil
The weather gods are not being fair to me. Yesterday afternoon and evening were beautiful. I spent most of my time indoors, just went shopping. Tonight, I have a ticket for the Met game and the forecast is heavy rain. I had discussed going to Coney Island with Gen this week; I'm glad I suggested waiting for a weather forecast.
I'm back, From where? A sneezing fit. I might have to start taking my generic Zyrtec every morning; before I start sneezing. My immune system is my frenemy. Sure, it does a great job fighting off infectious diseases, but it wreaks havoc on my body. It is an exact analogy to the side effect of medicines. The difference is that when you react badly to a drug you can go off it; you can't go off your immune system. What would the warning label on the immune system look like?
Possible Side Effects

itching

sneezing

nausea

diarrhea

coughing

joint pain

swelling

organ failure

type I diabetes

arthritis

Crohn's disease

psoriasis

Felty Syndrome

Lupus

Myasthenia gravis

Guillain–Barré syndrome

Multiple sclerosis
That is far from a complete list. I got the specific diseases from Wikipedia: List of Autoimmune Diseases. Except for Crohn's I only chose diseases where there's a strong acceptance that they are autoimmune. Crohn's level of acceptance is moderate.

This shouldn't be surprising; if something can make profound changes to your body it's almost impossible for all the changes to be good. We need a better way of informing people of side effects. They are given no context, there are no numbers. How likely are these side effects? How severe are they? I don't know if there is a better way. The main problem is that people are terrible at risk-evaluation. People will insist on x-rays including cat scans even though they carry significant risks. People who get scared of possible side effects or eating a food that some website says is bad for you will smoke, speed, drive while texting, walk while texting, not wear seatbelts, go out in the sun without protection, get too little sleep, and engage in unprotected sex. People are more afraid of shark attacks than car accidents.

Hey, a sneezing fit provided me with blogging material. The Zyrtec worked. I love drugs that make symptoms go away quickly; they feel like magic.

I listened to Politics Podcast: Partisanship Is A Hell Of A Drug . I never listen to podcasts and I'm not sure why I started listening to this one on FiveThirtyEight. I much prefer reading to listening, but I was doing some things that required visual attention not auditory, the page was there, and I hit play instead of finding music. It's 538 so it tries to be quantitative and analytical. They don't discuss the wisdom of policy but how the politics works; this time the effects of partisanship. They delved into why it has increased and the effects of the increase. Most of the effects are not good. Listen to it and apply it to yourself. One theme is that we often take positions because of who with we identify with rather than identifying people with people who share our positions.

What follows are my thoughts, not the podcasters. The rise of partisanship coincided with the rise of talk radio, especially right-wing talk radio. This let people who already leaned right become immersed in conservative culture. They learned the positions that people like them are supposed to take. Before this the Environment and Evolution were not partisan issues. That is no longer true. Conservatives, even intelligent educated conservatives will question evolution. They started to minimize the harm to the environment and maximize the costs of protecting it.

Then came Fox News and the process became more powerful and more unified. Fox News became the arbiter of what conservatives should believe.

The internet made the process explode and also decentralized it. Those that found Fox too mainstream could switch to Breitbart. The left started to join in too. Then came social media and that brought us to where we now are. We can spend out online socializing time in communities of people that share our identity and the social pressure to conform to its ideas grew. How do you gain social success in these communities? By challenging people's beliefs and actions? No, by showing that you are more vocal and more committed than the others. Vilifying the opposition is a sure path to popularity. I'm not saying people deliberately plan this. No, for the most part it's unconscious. We exhibit the behaviors that get rewarded and avoid those that get punished.

I decided to avoid those communities. I belong to some political Facebook groups but don't spend much time on them. I will not run in the race to purity. People who disagree with me, even when they do harm, for the most part aren't evil. Some of the people that do the most harm are people that I agree with politically but spend their time vilifying those that don't. I bail on heated political arguments. Nobody is going to change someone's mind when things get too hot. I don't want to get angry. I especially don't want to get angry at friends. I'd much rather make my arguments here where nobody feels criticized. I want to challenge people's thoughts, not their identity.

If the Mets don't play what will I write about tomorrow? Black Panther starts streaming today. I could watch then write about that. I could write about the MCU and Arrowverse. Or I could write about music. I listened to Pesky J. Nixon and Genevieve while I wrote this. I should always tell you what I was listening to. Let's see if I can keep that up.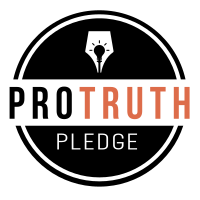 I signed the Pro-Truth Pledge:
please hold me accountable.







Memories: Not that Horrid Song - May 29, 2018
Wise Madness is Now In Session - May 28, 2018
The NFL and the First Amendment - May 27, 2018
On The Road Again - May 26, 2018
Oliver the Three-Eyed Crow - May 25, 2018



creative commons
This work is licensed under a Creative Commons Attribution-Noncommercial-Share Alike 3.0 License.
Horvendile May 15, 2018




Follow on Feedly