I became insane with long intervals of horrible sanity.
Edgar Allen Poe
The trouble with fighting for human freedom is that one spends most of one's time defending scoundrels. For it is against scoundrels that oppressive laws are first aimed, and oppression must be stopped at the beginning if it is to be stopped at all.
- H. L. Mencken
Many people would sooner die than think; In fact, they do so
-Bertrand Russell
What I have been telling you, from alpha to omega, what is the one great thing the sigil taught me — that everything in life is miraculous. For the sigil taught me that it rests within the power of each of us to awaken at will from a dragging nightmare of life made up of unimportant tasks and tedious useless little habits, to see life as it really is, and to rejoice in its exquisite wonderfulness. If the sigil were proved to be the top of a tomato-can, it would not alter that big fact, nor my fixed faith. No Harrowby, the common names we call things by do not matter — except to show how very dull we are ...
-James Branch Cabell
January 18, 2017 - 10:54 a.m.
Circular Firing Squad Reasoning
Not that I particularly remember them but I've been doing rapid fire dreaming right before I awake. I like that; dreams are natural in flight movies. Two were related. In one someone calls my name and I walk over and didn't recognize him even though he was my friend. In the other I was talking to Maura, right in front of her, and she couldn't recognize me. I bet dream interpretation people can have fun with those.
It was a rare Tuesday night where I was home and remembered about the half-priced burgers at The Snug so I went there for dinner. It's a block-and-a-half away but the weather was cold and wet so I needed a sweater, trench coat, and umbrella. There were two other people there when I arrived and they left shortly after I arrived. I had the place to myself. It was late, after 8 PM, but there are always people sitting at the bar; the weather must have kept away less hardy souls. That's an appropriate thing to say today, it's Oliver Hardy's birthday. Growing up I watched Laurel and Hardy movies all the time. Their shorts were packaged as a TV show and like Abbot & Costello one station would play one of their full-length movies every weekend. Do I have younger friends that have never seen their films? Do yourself a favor and check them out. You can start with Sons of the Desert.
I going to get political. The other day I was watching Tom Hartman on Democracy Now and he discussed exactly what I was thinking about, the dangers of the circular firing squad. It's a great expression and I see too much of it now on the left. There are those that are spending their time and energy attacking people they think of as too impure or too impractical or whose tactics they disagree with, instead of uniting behind opposition to Trump. Hartman is very far left and used the example of Joe Manchin, perhaps the most conservative Democrat in congress. He disagrees with Manchin on many issues but recognizes that he's still better than Trump and should be viewed as an ally. Hell, I disagree with a lot of Hartman's populist rhetoric and think he misunderstands the economics of trade, but I don't attack him. I was a strong supporter of Hillary but I don't attack Sanders or his supporters. They are on my side. I was a fan of Bernie's from way back. I think he misunderstands trade and lets his ideology lead his analysis but I'd have enthusiastically supported his nomination just as I did Obama's.
Infighting helps the right. You can get infuriated all you want but you don't have to express it. That doesn't mean acting in lock step. We should debate policy, strategy, and tactics. It's what I'm doing right now.
The tougher part, and something I often fail at, is not expressing rage at groups of people we disagree with. Calling Trump supporters names helps Trump. So much of his appeal comes from saying the "elites" don't respect people like them. Not treating them with respect plays right into that. It goes further, and it's even harder, and this is where I often fail; it's not making ad hominem attacks on GOP leadership. I have heard people say things like "The Republican ideal is that poor people should die if they get sick" They aren't monsters. They are not Nazis. When you do that people leaning right think, "I don't think that at all. I think that if we drop the safety net that people will lift themselves out of poverty." I don't agree with this. I think they are totally wrong. But there's a big difference between being wrong and wishing people dead.
There's a like that I always wanted to expand into a song, "They're not the enemy, they're the battlefield." What's our goal? To get people to believe the same way we do. Vilifying them works against that goal. Even if you think they are murderous it doesn't help to say so. I'm not going to try and change the mind of Trump or his appointments. And Trump is so far outside the main stream that he is a special case. But for others attack the issues not the people.
OK enough lecturing. I have some good news, Jane and Bernie are going to drive down to with me to see the Bombadils at 11:00 at Rockwood. That's hard for them as they are morning people. Tomorrow is their day in court for their protests of the SPECTRA pipeline. I'm going to go to court early in the morning to support them. That's hard for me as I'm a night person. But it's what friends do for each other. It's also an example of what I was talking about. I'm not so sure about SPECTRA. I haven't studied it enough to know. I know enough science to know that many of the arguments I hear against it are specious. But that doesn't make it right. I agree with the protesters that protecting the environment is important. We are on the same side.
Now to get on the bad side of bacon and eggs or whatever I choose to have for breakfast. I'm leaning towards poached eggs.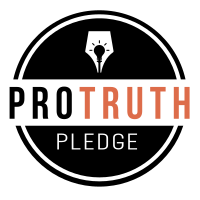 I signed the Pro-Truth Pledge:
please hold me accountable.







Memories: Not that Horrid Song - May 29, 2018
Wise Madness is Now In Session - May 28, 2018
The NFL and the First Amendment - May 27, 2018
On The Road Again - May 26, 2018
Oliver the Three-Eyed Crow - May 25, 2018



creative commons
This work is licensed under a Creative Commons Attribution-Noncommercial-Share Alike 3.0 License.
Horvendile January 18, 2017




Follow on Feedly