I became insane with long intervals of horrible sanity.
Edgar Allen Poe
The trouble with fighting for human freedom is that one spends most of one's time defending scoundrels. For it is against scoundrels that oppressive laws are first aimed, and oppression must be stopped at the beginning if it is to be stopped at all.
- H. L. Mencken
Many people would sooner die than think; In fact, they do so
-Bertrand Russell
What I have been telling you, from alpha to omega, what is the one great thing the sigil taught me — that everything in life is miraculous. For the sigil taught me that it rests within the power of each of us to awaken at will from a dragging nightmare of life made up of unimportant tasks and tedious useless little habits, to see life as it really is, and to rejoice in its exquisite wonderfulness. If the sigil were proved to be the top of a tomato-can, it would not alter that big fact, nor my fixed faith. No Harrowby, the common names we call things by do not matter — except to show how very dull we are ...
-James Branch Cabell
January 28, 2013 - 9:05 p.m.
Where Did the Angst Go?
I didn't update yesterday. It's 7:31 now and I'm just starting to write. I have been busy so I won't be too hard on the chronoklepts. I won't be hard on myself at all.
I'll try and make this concise. Saturday morning I was up bright and early, well actually it as dark, so I could be at WFUV at 7:30 for Cityscape. I took Metronorth from Grand Central Station because it let me sleep a bit longer and the timing was perfect. Wow, I just realized that the entire day is now a blur to me. I know that Kathleen Biggins rocked the Casbah pitching. She was aided by the Tara Cuzzi the co-host of Ceol na nGael and Liz Noonan a former host of Ceol na nGael. Those Irish stick together. We actually got more than twice the shows goal even though we were understaffed. The phones didn't stop ringing. Even I had to take calls! It was a rush.
After the show I ate some more, I never really stop eating when I'm there, then headed back to the Last Homely House West of the Mountains to get some rest. I didn't update the because I collapsed then helped prepare for the second part of the day's agenda, a Last Homely House Concert. Part of my job was to prepare flyers for the next house concert. I always love doing things like that.
The band was The Charley Gerard Jazz Ensemble. Guess what genre of music they play. Right! Who told you? I have been trying to develop an ear for Jazz since college. I still have not figured out what Jazz I like and what I don't other than that I don't like cool jazz. I loved Charley and company. Whatever it is I liked it. Hey it's a band with a viola! Violas are cool. They also did an instrumental called something like "An Atheist Rests His Weary Bones." As my bones were very weary I considered it a shoutout to me.
I had to get up early again on Sunday to volunteer once again at WFUV. In the morning it was John Platt's Sunday Breakfast. I was joined by Fred who volunteered for the first time. I told him he'd love it. I was right. It was such a musically incestuous day. I knew so many of the callers. John's crowd is my crowd. I know many of them from On Your Radar. Others I introduced to FUV and John. Lori not LORi came right after John ended so we could hang out for the hour till Ceol na nGael started. We haven't seen each other in a while and we had a lot of catching up to do.
Ceol na nGael had a great shift too. Celtic Cross came to the studio. I have never seen them live. I didn't then either but I did get to talk to Susanne Wickstrom. A fun thing about volunteering is running into the musicians in the kitchen and talking over snacks and coffee.
I took a pledge from the husband of one of my favorite Irish musicians that wishes to remain anonymous. When he told me who he was I said, "I hope you don't mind but I'm in love with your wife. And Brian who is sitting next to me is in love with her too." He said he didn't mind. Maybe next time I see her he'll punch me in the nose. If I'm lucky he'll punch Brian.
I had to leave early and not stay for Bob Sherman's show because I had to pick my glasses up at CostCo and they close at 6 PM. I missed my train home by a minute and had to wait for the next one. When I got back to the Last Homely House we weren't sure if we'd have tiem to get to Costco before it closed. We raced and we made it. I can see now! Both near and far! I need to get pictures of me in the new glasses.
I was finally able to get my circadian rhythm adjusted last night and to sleep before 10 PM. Of course today was the last day I'm getting up early for the drive. There were not a lot of volunteers. In the first shift it was me, Jim, and Sean, and students. More people showed up for the second one. Things were not quite as busy today but we did OK.
I won't say when but there were a few difficult volunteers over the weekend. One just wouldn't listen especially to what I always say is the most important thing, "If anything unusual comes up ask me when you are still on the phone with the person. If you do that I'll love you. I'll love you anyway but this way I'll love you even more."
Something very unusual came up. Something I didn't quite know how to handle. I had to talk to membership to work things out. What did he do? He just made a guess, a totally wrong guess. He gave the member no premiums when he actually wanted lots of premiums. Good thing the called back because he wanted to change his pledge. I found the one that the guy that didn't listen filled out. He didn't take any note of the unusual part of the pledge. He would have gotten everything wrong if they guy hadn't called back. It would be like someone in a restaurant wanting a special order with lots of substitutions on a prix fix menu and not asking what to do about it or telling anyone.
I just rubbed another volunteer the wrong way. She was so upset she isn't going to volunteer again. All I did was try to correct her about something and her response was to say she didn't do it. Then she did it again and I corrected her again and she denied it again. Oh well. As I told my shrink, I deal with all these people and get along with just about everyone so it isn't me, it's her. I'm a bit surprised I have that much social confidence.
The therapy was weird today because I was on such a high from the volunteering. I was pretty much angst free all week. If I could do that all the time I wouldn't need therapy.
Wow it's late. I better get going. It's after 9 PM.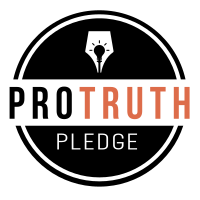 I signed the Pro-Truth Pledge:
please hold me accountable.







Video Didn't Kill the Blogging Star - May 18, 2018
Blue Jays Feel Mjollner - May 16, 2018
We're Right and You're Evil - May 15, 2018
Us and Them - May 14, 2018
Pesky Kat - May 13, 2018



creative commons
This work is licensed under a Creative Commons Attribution-Noncommercial-Share Alike 3.0 License.
Horvendile January 28, 2013




Follow on Feedly