I became insane with long intervals of horrible sanity.
Edgar Allen Poe
The trouble with fighting for human freedom is that one spends most of one's time defending scoundrels. For it is against scoundrels that oppressive laws are first aimed, and oppression must be stopped at the beginning if it is to be stopped at all.
- H. L. Mencken
Many people would sooner die than think; In fact, they do so
-Bertrand Russell
What I have been telling you, from alpha to omega, what is the one great thing the sigil taught me — that everything in life is miraculous. For the sigil taught me that it rests within the power of each of us to awaken at will from a dragging nightmare of life made up of unimportant tasks and tedious useless little habits, to see life as it really is, and to rejoice in its exquisite wonderfulness. If the sigil were proved to be the top of a tomato-can, it would not alter that big fact, nor my fixed faith. No Harrowby, the common names we call things by do not matter — except to show how very dull we are ...
-James Branch Cabell
January 04, 2013 - 10:45 a.m.
Love is Blue
I'm trying to be good and getting an earlier start writing. Let's see how this works out. Damn, I forgot to write down the things I wanted to write about today. Well it's easy to write about what I did yesterday so I'll start there and maybe not need anything else.
First off I'll start with something important, breakfast. I had a peanut butter omelet. I didn't have the kind of pan I always use but found a cast iron one and that worked almost perfectly, there was one spot that stuck. I probably was a little light on the oil there. It came right off but it tore the omelet. I pride myself on my omelet cooking.
Last night I went to the Christopher Street Coffeehouse for yet another "Blue Show." That's the tribute that the Chicks with Dip do for the 40th Anniversary of the release of Joni Mitchell's "Blue." That is always special. Shows at Christopher Street are always special. It was originally done as a fund raiser for Christopher Street and that makes it doubly special. Last night was a fund raiser for Hurricane Sandy Charities and that made it triply special.
As is my wont I got there two hours before show time to help out, There wasn't much for me to do other than set up the merch. That isn't easy as there is lots and lots of merch. I worked out the logistics but it wasn't easy. They've made changes at the church since our last show. there is now an unmovable baptismal font where we used to do the merch. We found a new spot that isn't as good as it isn't by the door but works. It is by the coffee which helps.
We had a nice crowd, a paid attendance of 69 people so we raised lots of money for a good cause. I of course had tons of friends there. David and Brian volunteer, David at the door and Brian as photographer. Then there was Damon, Fred, and Coco, who all sat together, Katherine who one friend described as a Nordic Goddess, and and and. OK you know the routine. I am brainless and forgetting people I've known for ages.
Then there are the Coffee House people, Susan, Charmaine, and Tim.
Finally the musicians and their families. I love the Chicks and the men's auxiliary, the Council of Chick Kompatriots aka the Roosters. I also love that Jay has made that part of the show.
I'd have had a great time if there were no music but of course there was. Yes I love the Chicks. Yes they are great performers. But I would not still enjoy the shows after so many performances if Joni was not a good, songwriter, not a great songwriter, but a songwriting goddess. I still cry every time I hear Karyn sing "A Case of You." I still pay attention to every song, I still melt over and over again. I'm still in awe of how well the chicks sing. During the second half they do their own songs and that part varies. They can all write. I wish I had a brain so I could tell you the song that Elisa did. it was the first time she did it backed up by Meg Braun and Carolann Solebello. That has hit written all over it. I'm going to admit to idiot story about writing this. I'm correcting a mistake now, I originally said that Sharon Goldman sang it. I know why I did that too, Her song was the other one I wanted to write about but by this morning the two got confounded in what passes for my brain. I hate being an idiot. So Sharon's song was "Time is an Airplane." I loved the metaphor. At least I know it wasn't a simile.
Does this sound like fun? Are you jealous? Do you wish you were there? Well you can be, they are doing it again this Saturday at Common Ground Community Concerts in Dobb's Ferry. Yes I'll be there doing merch. Buy your ticket right now, Common Ground @ South Church Presents Joni Mitchell's Blue: A Celebration.
Carey was talking about reviving her blog. I'm said she should because it's what inspired me to start mine. Thinking about it made me realize that I've actually written million of words here. Nowadays my average entry is about 1200 words. I post most days, let's say 300 a year. that's 360,000 a year. When I started the entries were about half as long so we'll say 180,00 a year. Overall I'd say a quarter million words per year is a conservative estimate. I've been doing this for 12 years so that's three million words.
The actual lesson from this is that numbers without context are meaningless.
Today I haven't even written 800 words but I'm going to call it quits. I don't write to fill a set length, I write till I've said what I have to say.
I'm not sure what I'm doing today. I might even stay home. Well one thing I should do is try and find somebody to check out my eyes. I've had a number of useful suggestions from people. I don't have insurance but I'm afraid there is more wrong with them than myopia. I went from seeing fine with my glasses to feeling blind in less than a month. I did not feel safe driving yesterday.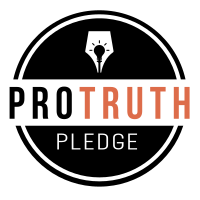 I signed the Pro-Truth Pledge:
please hold me accountable.







Video Didn't Kill the Blogging Star - May 18, 2018
Blue Jays Feel Mjollner - May 16, 2018
We're Right and You're Evil - May 15, 2018
Us and Them - May 14, 2018
Pesky Kat - May 13, 2018



creative commons
This work is licensed under a Creative Commons Attribution-Noncommercial-Share Alike 3.0 License.
Horvendile January 04, 2013




Follow on Feedly